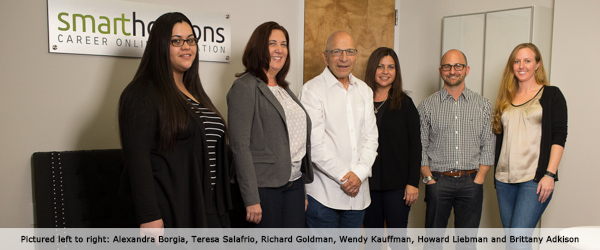 New Office Will House Academic Enrollment Services Division for Fast Growing Florida-Based Education Company
Pensacola, FL, February 5, 2015– Smart Horizons Career Online Education (SHCOE), the world's first fully accredited online school district, announced today the opening of a new South Florida office in Fort Lauderdale to house their academic enrollment services and the office of CEO Dr. Howard Liebman. The opening of the Fort Lauderdale office marks an important milestone and allows for future expansion for the fast growing Pensacola-based education company. The new SHCOE office space is located at 800 West Cypress Creek Road and will begin operations immediately; an open house to celebrate the opening of the new office was held earlier this week.
"We are proud and excited to open our new South Florida offices in downtown Fort Lauderdale," stated Dr. Liebman. "This marks an important milestone in the growth of our company and will allow us to consolidate our academic enrollment services division under one roof, while allowing for future growth and expansion."
SHCOE is a Florida success story—the company established the first fully accredited online school district in 2010 and has seen its Career Online High School (COHS) grow exponentially over the last few years. COHS is now offered in major public library systems across the country, including the Los Angeles Public Library, New Jersey Public Library System, and the Cincinnati Public Library. COHS is also offered to employees by major companies such as Taco Bell, as well as through regional workforce development boards. Additionally, SHCOE recently expanded its contract with the Florida Department of Corrections (FDOC) on an innovative first-of-its-kind program which allows inmates the ability to earn their high school diplomas at 15 separate facilities in the FDOC system.
"Our mission at Smart Horizons Career Online Education is to reengage the over 45 million Americans who do not have high school diplomas back into their educational careers," said Chief Operating Officer Wendy Kauffman. "We help people change their lives through education and we are excited to share this mission with the greater Fort Lauderdale community, which has welcomed us with open arms."
About Smart Horizons Career Online Education
Smart Horizons Career Online Education, founded in 2009 and located in Pensacola, Florida, is a private, AdvancED/SACS accredited online school district. AdvancED/SACS District accreditation signifies that SHCOE and all of its schools are fully accredited and that SHCOE is recognized across the nation as a quality school system. Smart Horizons Career Online Education offers 18-credit, career-based high school diploma programs that are designed to prepare students for entrance into the workplace. Career certificate offerings include Childcare Education, Office Management, Protection Services, Homeland Security, Transportation Services, Professional Skills, Retail Customer Service Skills, and Food & Customer Service Skills.