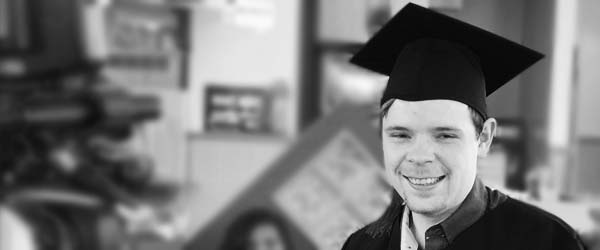 RAPID CITY, S.D., March 3, 2015 /PRNewswire/ — Taking advantage of Taco Bell's partnership with Career Online High School, Stephen Irvine became the first team member to earn his high school diploma through an innovative program supporting team member success through education. A graduation ceremony honoring the achievement was held at the Rapid City Taco Bell franchise location where Mr. Irvine works.
"We're so proud of Stephen and his commitment to graduate from Career Online High School," said Taco Bell's Global Chief People Officer Frank Tucker. "We believe every Taco Bell team member should have the opportunity to earn a high school diploma and continue their education. That is why we have partnered with our franchisees to offer programs like Career Online High School."
Career Online High School was developed in 2012 through a partnership by ed2go, a division of Cengage Learning that provides students with online continuing education and career training. The Smart Horizons Career Online Education program provides affordable, career-based online education opportunities for the millions of adults in the United States without high school diplomas.
Taco Bell, Taco Bell franchisees and the Taco Bell Foundation for Teens™ are committed to delivering a range of education resources to team members and teens that inspire and enable them to achieve más, starting with graduation from high school. Last year, Taco Bell, Taco Bell franchisees and the Taco Bell Foundation for Teens™ partnered with Cengage Learning and Smart Horizons to provide team members an opportunity to earn an accredited high school diploma and career certificate throughCareer Online High School. Nearly 200 team members are expected to be awarded scholarships in the full amount of tuition (valued at$1,295) by the end of 2015. Providing the opportunity for its team members to go back to high school to get a diploma is one of many ways Taco Bell, Taco Bell franchisees and the Taco Bell Foundation for Teens™ are giving team members skills they can use to grow and achieve más.
With a high school diploma and career training under his belt, Mr. Irvine plans to continue his education and has enrolled in a local cosmetology school. His advice to others is "just do it and stick to it. It is so worth it, just even without all the extras that I'm being blessed with, just the diploma in itself is a huge blessing. It's going to open so many more opportunities, and it's totally worth the time and the effort."
"We are focused on broadening access to education for all learners, and it is exciting to see the positive outcomes we're able to influence through Career Online High School," said Ron Stefanski, Executive Director of Strategic Alliances at ed2go.
"Stephen Irvine represents everything we've hoped to achieve by establishing Career Online High School and teaming with Taco Bell and ed2go, he has a bright future ahead of him after earning his diploma and is continuing his education beyond COHS as he pursues a post-secondary degree," said Dr. Howard Liebman, Superintendent and CEO of Smart Horizons Career Online Education. "We're very proud of Stephen and congratulate him on earning his diploma from Career Online High School."
Images from the graduation ceremony held at the Rapid City Taco Bell location are available upon request. For more information on this partnership and the Career Online High School program, please visit http://www.ed2go.com/tacobell/.
About Cengage Learning and ed2go
Cengage Learning is a leading educational content, technology, and services company for the higher education and K-12, professional and library markets worldwide.  ed2go, part of Cengage Learning, is the largest provider of turnkey online training and education solutions serving the adult education, career and corporate training markets. With over 2,000 colleges, universities, community based organizations and other training providers, ed2go has served more than 2.5 million students. ed2go's ever-growing catalog of Online Courses and Career Training Programs makes it simple for students to enrich their lives or reach professional goals in a supportive and engaging environment. For more information: www.cengage.com and www.ed2go.com.
About Smart Horizons Career Online Education
Smart Horizons Career Online Education, founded in 2009 and located in Pensacola, Florida, is a private, AdvancED/SACS accredited online school district. AdvancED/SACS District accreditation signifies that SHCOE and all of its schools are fully accredited and that SHCOE is recognized across the nation as a quality school system. Smart Horizons Career Online Education offers 18-credit, career-based high school diploma programs that are designed to prepare students for entrance into the workplace. Career certificate offerings include Childcare Education, Office Management, Protection Services, Homeland Security, Transportation Services, Professional Skills, Retail Customer Service Skills, and Food & Customer Service Skills.
About Taco Bell
Taco Bell Corp., a subsidiary of Yum! Brands, Inc., (NYSE: YUM), is the nation's leading Mexican-inspired quick service restaurant. Taco Bell serves made to order and customizable tacos, burritos, and specialties such as the exclusive Doritos® Locos Tacos, gourmet inspired Cantina Power Menu and lower calorie Fresco Menu. The company encourages customers to "Live Más," both through its food and in ways such as its Feed the Beat® music program and nonprofit organization, the Taco Bell Foundation for Teens. Taco Bell and its more than 350 franchise organization have nearly 6,000 restaurants across the United States that proudly serve more than 36 million customers every week.
Logo – http://photos.prnewswire.com/prnh/20070724/NYTU125
SOURCE Cengage Learning
RELATED LINKS
http://www.cengage.com