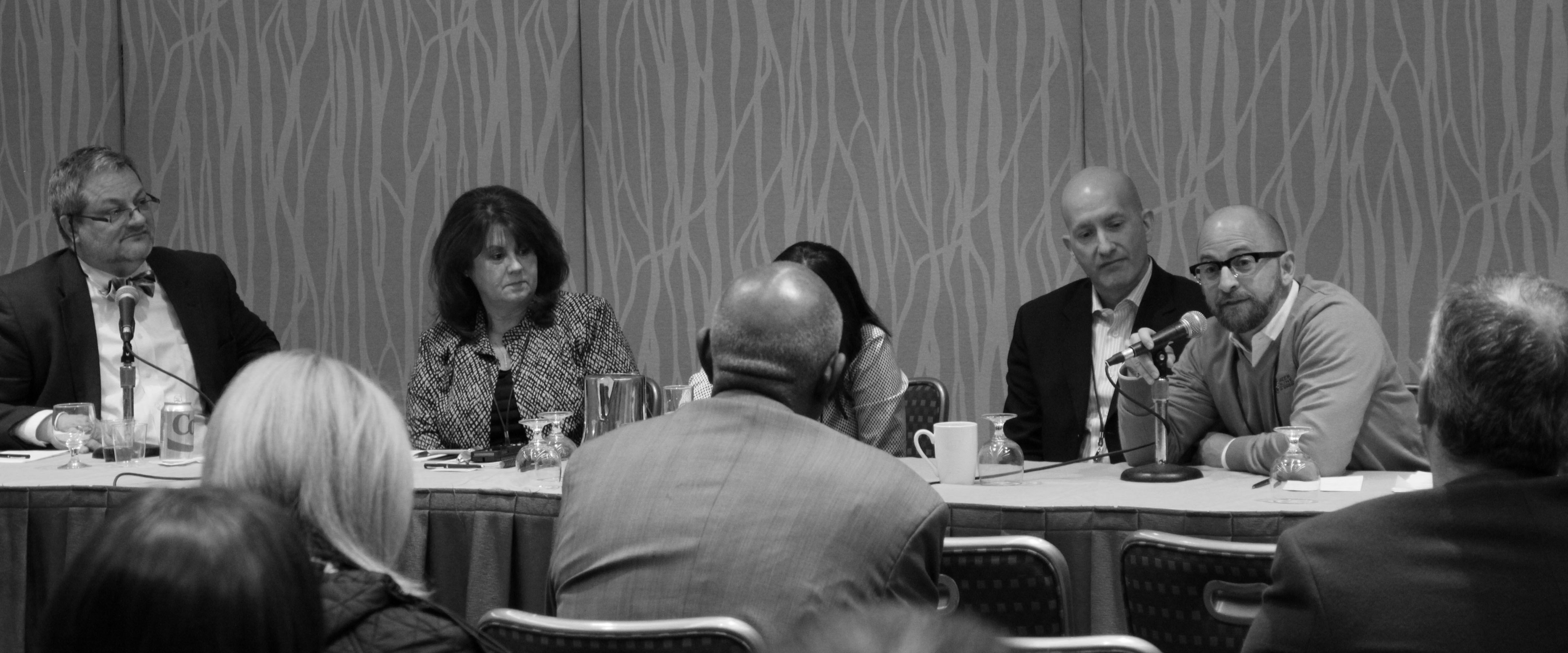 Cengage Learning/ed2go's Ron Stefanski Hosted the Panel and SHCOE's CEO Dr. Howard Liebman Participated as a Panelist
Washington, DC, March 30, 2015– Smart Horizons Career Online Education (SHCOE) announced today that CEO and founder Dr. Howard Liebman participated yesterday in a panel focused on Career Online High School (COHS) at the National Association of Workforce Boards (NAWB) Annual Forum held in Washington, DC. Led by Ron Stefanski of ed2go, a SHCOE partner and part of Cengage Learning, the  panel was titled "Career Online High School­—Broadening the Educational Pathway to the Middle Class" and was open to all attending the NAWB Annual Forum. Dr. Liebman was a panelist along with Mr. Todd Gustafson, Executive Director of Kinexus, and Ms. Dot Fallihee, Chief Program Officer at the Workforce Development Council (WDC) of Seattle-King County.
"Workforce development boards play such a crucial role in helping prepare America's workers for the increasing demands of today's job market," stated Dr. Liebman. "It made sense for ed2go and COHS to team up with these workforce boards to help provide a solution to the more than 40 million Americans trying to enter the workforce without a high school diploma."
Digital education options have become a focal point for workforce boards across the country as their leaders realize that one of the toughest hurdles to enter and advance in the workforce is the lack of an accredited high school diploma. ed2go and SHCOE have previously worked with major workforce development boards such as Kinexus and the WDC of Seattle-King County. Mr. Gustafson, Ms. Fallihee, and Dr. Liebman discussed their experiences using COHS as a tool for workforce boards with the leaders of regional boards from around the country.
"Cengage Learning/ed2go is proud to have a strategic partnership with NAWB," stated ed2go's Ron Stefanski. "Bringing together key thought leaders from the workforce community is critical toward advancing the discussion about how we re-engage adults back into training and education that leads to life-sustaining work. Addressing the needs of the millions of adults without a high school credential is a necessary and critical start. Our recent surge in student enrollments is evidence of the need."
The workshop covered important topics such as:
How the COHS program is different from a GED
The COHS student experience and student access to support while enrolled
How COHS can fit into a workforce board's overall adult education programs and strategy
The overall experience encountered by workforce boards already offering COHS
For more information on the NAWB and the annual forum please visit www.nawb.org/forum.