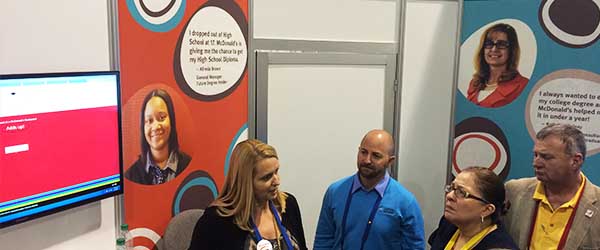 Career Online High School (COHS) is part of McDonald's "Archways to Opportunity" Educational Program
Smart Horizons Career Online Education, the world's first fully AdvancED/SACS/NCA accredited private online school district, in partnership with Cengage Learning/ed2go, is proud to announce that the McDonald's Corporation is offering Career Online High School (COHS) to all eligible employees working in corporate-owned and franchise-owned McDonald's restaurants. COHS is part of a groundbreaking new employee education program named "Archways to Opportunity" that was announced at the 2015 McDonald's Turnaround Summit where over 2,000 independent franchise owners were in attendance.
"We are thrilled to be a part of McDonald's commitment to education, which will help provide a brighter future for employees," stated Smart Horizons Career Online Education's founder and Superintendent of Schools Dr. Howard Liebman. "COHS is one of the cornerstones of the Archways to Opportunity workforce education strategy, which is synonymus with our mission of improving lives through re-engaging older youth and adults back into the educational system."
McDonald's "Archway to Opportunity" program is an industry leading workforce education strategy that helps participants learn English language skills, earn an AdvancED/SACS/NCA accredited high school diploma, and matriculate on to an associate's or bachelor's degree. As stated in McDonald's description of the program, "We believe that education is the true game-changer. We're proud to provide tools and world-class training that help people succeed within our system. Archways to Opportunity is not a one-size-fits-all solution, but an overarching education strategy that meets people where they are."
Following up on the initial announcement at McDonald's Turnaround Summit, training materials and enrollment information were recently sent to all McDonald's restaurants and the program has been rolled out over this past month.
At the Turnaround Summit, McDonald's Chief People Officer, Karen King, spoke extensively about COHS in a keynote session titled "Inspiring Our People" with franchise owners in attendance. Career Online High School (COHS) was in attendance and had the opportunity to meet with several McDonald's franchise owners and executives. In addition, Dr. Liebman has been invited to present at several upcoming McDonald's franchise owner conferences around the country to continue to educate and grow enrollment and interest in COHS.