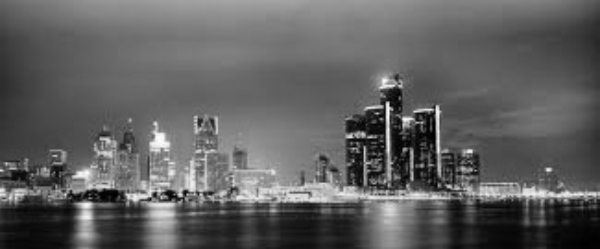 Cengage Learning's Career Online High School will provide high school diplomas and entry-level workforce certificates to adults in the city of Detroit
Detroit, MI, May 27, 2015 — Smart Horizons Career Online Education (SHCOE) and Cengage Learning today announced a "collective impact" education initiative in Detroit, MI to support the city's recovery by re-engaging disconnected adults and older out-of-school youth with online education and training programs, centered around its Career Online High School (COHS).  Currently more than 70,000 adults in Detroit – a staggering 15% of the city's total population over the age of 21 – do not have a high school diploma, leaving them with limited employment options as the city continues to recover from bankruptcy.  In addition to SHCOE and Cengage Learning, participants in the Detroit Collective Impact Initiative include McDonald's Corporation, Kinexus, Michigan Virtual University and Matrix Human Services.
"We are excited to be working with so many compassionate and motivated partners in Detroit who recognize the positive impact education can have on individuals and the community overall," stated Smart Horizons Career Online Education Founder and Superintendent of Schools Dr. Howard Liebman.  "By teaming with these public and private partners to provide educational and employment opportunities we can make a huge difference in people's lives and provide them with a pathway to success."
"This initiative is all about bringing public and private partners together to create a true collective impact in our community," said Ron Stefanski, Executive Director of Strategic Alliances at Cengage Learning and a Detroit resident. "Working with Matrix, McDonald's, Michigan Virtual University and Kinexus we have developed Detroit's own dream team.  Together, we've crafted a program to help adults earn an AdvancED/SACS accredited high school diploma and an entry-level workforce certificate in industries that can't find workers fast enough, such as food service, childcare, retail and transportation. This is our chance to change the game for them, and with passionate partners in place, we are committed to growing this program and making a real contribution to Detroit's accelerating recovery."
Launch partners in Cengage Learning's Detroit Collective Impact Initiativeinclude:
Matrix Human Services: Matrix is a Detroit-based nonprofit, social service organization who has been serving the community for 109 years to fight generational poverty. Matrix offers positive life experiences and assistance with basic needs, supportive services and education. All programs are rooted in the Transition to Success Model™ (TTS™) providing a system of care designed to empower families and individuals to achieve economic self-sufficiency. As host to the Detroit Collective Impact Initiative, Matrix will now be providing scholarships to eligible Head Start parents in need of a high school diploma.  They will host and provide onsite support services in a learning lab at the Matrix Learning Center in downtown Detroit.
Michigan Virtual University (MVU):  As one of the largest and leading nationally recognized supplemental virtual school programs in the country, MVU will be making available the prerequisite program for Career Online High School with organizations across the state to re-engage adults and out of school youth to pursue their high school education and beyond.  Through their statewide reach, MVU has also committed to providing scholarships and recruiting other organizations to support scholarships as part of the Collective Impact Initiative.
McDonald's Corporation: McDonald's recently announced they will be rolling out the COHS program to all eligible employees in corporate and franchise-owned restaurants as part of their workforce upskilling initiative. Errol Service, managing director/owner of MCD Services, one of Detroit's largest franchises, is launching a major employee-focused campaign to recruit participants among the over 1,200 Detroit area associates who qualify for free tuition thru the corporate "Archways to Opportunity" education strategy.
Kinexus: a Michigan non-profit dedicated to creating economic vitality by connecting business, workforce, and community has launched COHS as part of its Bridge Academy for adults. Kinexus has had 13 program graduates to-date and another group of students are scheduled to graduate this summer.
"As a champion for online learning, we are so proud to be a part of the Detroit Collective Impact Initiative, working in collaboration with key area employers and workforce boards to help those in our communities achieve academic success," said Jamey Fitzpatrick, CEO of Michigan Virtual University. "By providing access to an accredited high school diploma and career certificate, we are helping people to excel – opening doors to employment opportunities that once were not attainable."
Launched in 2012, Cengage Learning's Career Online High School (COHS) is a partnership between ed2go, a division of Cengage Learning that provides online continuing education and career training, and Smart Horizons Career Online Education. The program provides affordable, career-based online education opportunities for the millions of adults in the United States without high school diplomas.
Recently, the program was recognized by the Obama Administration during its Upskill Summit, a gathering of national business and education leaders to focus on efforts to train more front-line American workers.  Cengage Learning and Smart Horizons also work with several partners to support commitments through the Clinton Global Initiative. To learn more about the COHS program and partnership opportunities, please visit:  http://www.careeronlinehs.org/.