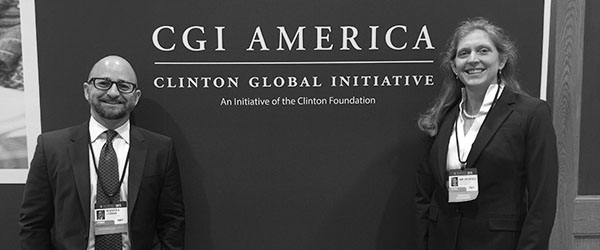 New CGI America Commitment to Action provides scholarships for high school diplomas and advanced degree career certificates for adults and out-of-school youth in Detroit 
Denver, CO, June 9, 2015 – Smart Horizons Career Online Education (SHCOE), the world's first AdvancED/SACS accredited online school district, announced today the launching of a new CGI America  Commitment to Action at the 2015 CGI America meeting.  Partnering with social services organizations and education and business leaders such as Cengage Learning and McDonald's, SHCOE commits to address education issues in Detroit. The "collective impact" initiative intends to support the city's recovery from bankruptcy by re-engaging disconnected adults and out-of-school youth with online education and training programs, centered on its Career Online High School (COHS), an accredited online high school program for adults and out of school youth.
"The 'Detroit Collective Impact' initiative is intended to mitigate the consequences of chronic high unemployment in a large city that has a workforce with profound skills gaps," said Smart Horizons founder and Superintendent Dr. Howard Liebman. "Our participation at CGI America provides an incredible opportunity to move this work forward as we have made connections with partners who are equally as passionate about improving educational opportunity."
Specifically through this new CGI America Commitment to Action, SHCOE and partners such as Cengage Learning committed to creating a comprehensive, collective impact model in Detroit that reconnects 6,000 disconnected older youth and adults ages 16 and older to additional training and education that leads to productive middle-skills employment. This replicable, effective education and employment model will graduate 1,350 disconnected older youth and adults, over two years, with an AdvancED/SACS accredited high school diploma and entry-level workforce certificate.
"More than 70,000 adults in Detroit – a staggering 15% of the city's total population over the age of 21 – do not have a high school diploma, leaving them with limited employment options as the city continues to recover from bankruptcy. This is a disheartening statistic and we must work together within our community to make a difference," said Ron Stefanski, Executive Director of Strategic Alliances at Cengage Learning and a Detroit resident. "Building on success with our first CGI Commitment to Action, and working with forward-thinking partners including Matrix, McDonald's, Michigan Virtual University and Kinexus, we will change lives and will make a make a real contribution to Detroit's accelerating recovery."
Created in 2012, Cengage Learning's Career Online High School (COHS) is a partnership between ed2go, a division of Cengage Learning that provides online continuing education and career training, and Smart Horizons Career Online Education. The program provides affordable, career-based online education opportunities for the millions of adults in the United States without high school diplomas.
To learn more about the COHS program and partnership opportunities, please visit: http://www.careeronlinehs.org/.
About CGI America
The Clinton Global Initiative (CGI), an initiative of the Clinton Foundation, convenes global leaders to create and implement solutions to the world's most pressing challenges. Established in June 2011 by President Bill Clinton, the Clinton Global Initiative America (CGI America) addresses economic recovery in the United States. CGI America brings together leaders in business, government, and civil society to generate and implement commitments to create jobs, stimulate economic growth, foster innovation, and support workforce development in the United States. Since its first meeting, CGI America participants have made more than 400 commitments, which have improved the lives of nearly 1.4 million people.
CGI also convenes an Annual Meeting, which brings together global leaders to take action and create positive social change, CGI University (CGI U), which brings together undergraduate and graduate students to address pressing challenges in their community or around the world, and, this year, CGI will also convene CGI Middle East & Africa, which will bring together leaders across sectors to take action on pressing social, economic, and environmental challenges. For more information, visitclintonglobalinitiative.org and follow us on Twitter @ClintonGlobal and Facebook atfacebook.com/clintonglobalinitiative .
About Cengage Learning
Cengage Learning is a leading educational content, technology, and services company for the higher education and K-12, professional and library markets worldwide. The company provides superior content, personalized services and course-driven digital solutions that accelerate student engagement and transform the learning experience. Cengage Learning is headquartered in Boston, MA with key office hubs located in Farmington Hills, MI and San Francisco, CA. Cengage Learning employees reside in nearly 40 different countries with company sales in more than 125 countries around the world.  www.cengage.com.
About Smart Horizons Career Online Education
Smart Horizons Career Online Education, founded in 2009 and located in Pensacola, Florida, is a private, AdvancED/SACS accredited online school district. AdvancED/SACS District accreditation signifies that SHCOE and all of its schools are fully accredited and that SHCOE is recognized across the nation as a quality school system. Smart Horizons Career Online Education offers 18-credit, career-based high school diploma programs that are designed to prepare students for entrance into the workplace. Career certificate offerings include Childcare Education, Office Management, Protection Services, Homeland Security, Transportation Services, Professional Skills, Retail Customer Service Skills, and Food & Customer Service Skills.
Pictured above:  Dr. Howard Liebman and Ms. Kari Greenfield