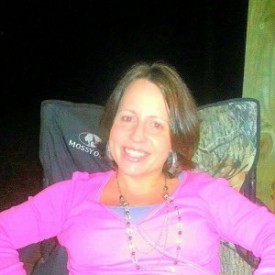 "I don't need a high school diploma. You don't have one. Why should I bother?"
It was Angela Entz's worst nightmare. Her 14-year-old daughter was telling her that she was a poor example for getting an education. Angela's regrets about dropping out of high school starting coming back to her.
She had to do something to change the situation to help her struggling daughter before it was too late.
Angela moved to Florida and got remarried. Her new husband is educated, smart, and a hard worker. He encouraged her to finish her high school education, not just to set a good example for her daughter but also to prove to herself that she could do it.
"Going back to high school brought up a lot of emotions," Angela said. "I left home at a young age, and I enjoyed raising my daughter and being a wife and a stay-at-home mom. But I eventually realized that I needed the foundation of a solid education."
Angela enrolled in Smart Horizons Career Online High School. Her daughter saw her working night and day for 18 straight months to earn her high school diploma, all while caring for her daughter and her new toddler.
Angela succeeded in inspiring her daughter, who was still having a hard time in school. "My daughter had a lot of academic challenges and obstacles. But we never gave up on her, and I think having involved parents can make all of the difference in the world. We found an excellent K-12 online program, and my husband also worked with her on her math skills. When she got her grades up, she went back to her high school, and now at 16-years-old her confidence is up and she is doing so much better."
Angela finished her own classes with Smart Horizons and earned her high school diploma plus a certificate in early childhood education, completing the coursework required for a Child Development Associate (CDA) credential. She secured a job at a private, faith-based PreK-12 school and is working toward obtaining the CDA.
Angela's ultimate goal is to go to college and eventually become a teacher.
"I want to inspire children to help them realize their potential and to fulfill their dreams," Angela said. "I'm on my way!"