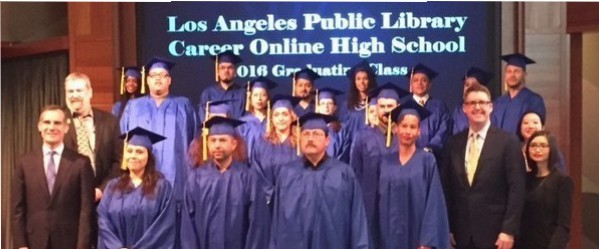 Los Angeles Mayor Eric Garcetti Confers Diplomas Upon 28 Graduates at Ceremony for the First Public Library in the United States to Offer Career Online High School
January 27, 2016, Los Angeles, CA– The Los Angeles Public Library celebrated its first class of graduates from Cengage Learning's Career Online High School's (COHS) this week. The online high school program, offered onsite at the library, is part of Smart Horizons Career Online Education (SHCOE), the world's first AdvancED/SACS accredited online school district.
A graduation ceremony was held Tuesday at the central branch of the Los Angeles Public Library where 28 COHS graduates received their accredited high school diplomas and career certificates, conferred by Los Angeles Mayor Eric Garcetti. Also in attendance at the ceremony were recently retired U.S. Congressman George Miller, City Librarian John F. Szabo, Board of Library Commissioners President Bich Ngoc Cao, and State of California Librarian Greg Lucas.
"We are very proud of and excited for the 28 graduates of COHS at the Los Angeles Public Library," stated SHCOE Co-founder and Superintendent Dr. Howard Liebman. "The Los Angeles Public Library was the first public library we partnered with and their program has been an example for others as COHS has spread to public libraries across the country. Seeing these students transform and improve their lives by earning an accredited high school diploma is a true representation of our mission."
The graduates attended COHS free of charge via a scholarship program available to local residents. In addition to the high school diploma, the program includes a workforce readiness certificate, which prepares students for employment in a specific career field. The graduates range in age from their 20s to their 50s. Currently, 124 adults are enrolled in the program at the Los Angeles Public Library. The library launched the program in 2014 to re-engage adults into the education system and prepare them for entry into post-secondary education or the workplace. COHS has now expanded to more than 30 public libraries across the state of California.
"Awarding diplomas to these adult learners is a dramatic example of the library's continued transformation into a dynamic force for learning and empowerment," said City Librarian John F. Szabo. "Armed with their high school diplomas, these graduates are now better prepared to find a job, advance in their career, or continue their education. The library is changing lives in a very big way."
Los Angeles has among the nation's highest high school dropout rates, with upwards of 25 percent of adult residents lacking a high school diploma, according to U.S. Census Bureau statistics. In some areas of the city, as many as 60 percent of adults do not have a high school diploma. Nationally, the dropout crisis has reached epidemic proportions: every 26 seconds another student gives up on school, resulting in more than one million American dropouts a year, or 7,000 every day.
"All of us have different reasons why we didn't complete our high school diploma, whether it was taking care of our families, having to work multiple jobs, or something else that prevented us from finishing," said Angie Velasquez, one of the graduates. "But there is one thing that we all have in common and that is determination. If it were not for COHS, I wouldn't be working where I am now."
Funding for COHS is provided by the Library Foundation of Los Angeles, the Clinton Global Initiative Scholarship Matching Program, and the California State Library. A 2015 recipient of the nation's highest honor for library service—the National Medal from the Institute of Museum and Library Services—the Los Angeles Public Library serves the largest and most diverse urban population of any library in the nation. Its Central Library, 72 branch libraries, collection of more than 6 million books, state-of-the-art technology accessible at www.lapl.org, and more than 18,000 public programs a year provide everyone with free and easy access to information and the opportunity for life-long learning.