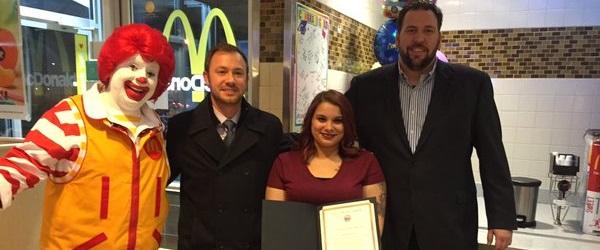 Lorain, Ohio, woman graduates via McDonald's Archways to Opportunity Program
CLEVELAND – February 4, 2016 – McDonald's employee Julia Garcia was recognized this week for earning her high school diploma from Cengage Learning's Career Online High School (COHS). The school is part of the world's first SACS/AdvancED accredited online school district, Smart Horizons Career Online Education, and was made available to Garcia through the McDonald's Archways to Opportunity program. Garcia was honored with a graduation ceremony on Tuesday, February 2 at the Lorain, OH, McDonald's franchise where she works.
The Archways to Opportunity program supports McDonald's restaurant employees across the country in pursuing their educational goals, whether it's earning their high school diploma through COHS, pursuing a college degree, or learning English.
Garcia is a hardworking mother of one who began working at McDonald's in 2010 as a crew member. She was then promoted to crew trainer and is now on her way to a management position.
Garcia learned about the opportunity to further her education through Jason Payne, the second-generation McDonald's owner/operator of the franchise location where she is employed.
"I couldn't be prouder of Julia and what she has accomplished, both for herself and her family," Payne said. "Julia isn't just a great employee and team member; she's an inspiration and role model who her co-workers can look up to. Archways to Opportunity truly provides my employees with opportunities to better themselves, and I'm very happy that Julia was able to reach this personal milestone through this program."
After learning of the Archways to Opportunity program, Garcia began work to earn her diploma through COHS. She completed her diploma in December.
"McDonald's recognizes that for loyal employees like Julia Garcia, earning a high school diploma with career skills is good for business, good for people, and good for communities," said Howard A. Liebman, PhD, Superintendent of Schools for Smart Horizons Career Online Education. "We at COHS believe that every individual, regardless of their background or previous circumstances, has the ability to return to high school and—with the support of our academic coaches and innovative online curriculum—successfully complete their high school diploma. For the majority of our students this milestone is the first step toward continuing their education dreams and achieving their career potential."
For more information about the COHS program offered through McDonald's Archways to Opportunity, visit www.archwaystoopportunity.com/get_your_high_school_diploma.html.