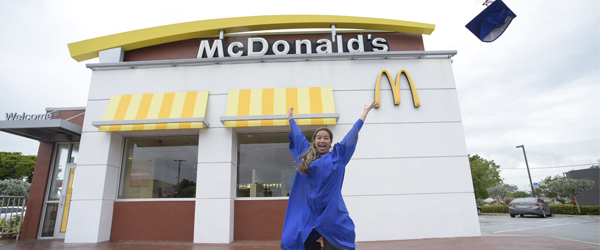 By Howard Liebman, Ph.D., Superintendent of Schools for Smart Horizons Career Online Education
An Original McDonald's Medium Blog Post
When we started the Smart Horizons Career Online Education school district in early 2010, it was our mission to battle the nation's dropout crisis by building a program capable of reengaging out-of-school youth and adults back into the educational system. Nearly 40 million adults in this country do not have a high school diploma, which means they are locked out of many opportunities in the workplace, further education and overall life advancement.
Our Career Online High School (COHS), created in partnership with Cengage Learning, was born out of studying this population. Who are they? Why did they drop out? What are their current needs? How were they traumatized by these negative experiences?
We wanted to create an experience that not only gave students support and led to their success, but was also applicable to their lives and jobs. For this reason, our students not only earn a high school diploma (accreditation: AdvancED/SACS/NCA/NWAC) but also a career certification designed to enhance their on-the-job skills and knowledge.
Several years ago, our organization was asked to join the Clinton Global Initiative, where we committed to upskilling the 24 million frontline workers employed in the United States. This commitment has led to innovative partnerships with corporations like McDonald's, which offers our COHS program as an employee benefit to all eligible employees, both employed by the company and by franchisees, through its Archways to Opportunity program.
These employees can now complete their high school education online at their own pace and according to their schedules. We know these students work—and we want to keep them working while enabling them to take the next step in their education, which can serve as a springboard for further opportunities. The program gives students the ability to earn their high school diploma around their work schedules, removing what is for many the biggest obstacle to completing school as an adult. We even designed several new certification areas in food services, hospitality, and customer service, to ensure the program really targeted the needs of McDonald's workers.
Although there are benefits to upskilling on a national and corporate level, it is really the individual stories that inspire. I am proud to say that the Archways to Opportunity program already has many success stories.
Juan Garcia in California became the program's first graduate at age 40 and now he is fulfilling his lifelong goal of getting a college education. Juan is a dedicated McDonald's employee who worked his way from cashier to cook to supervisor to store manager. But he was unable to enroll in college without an accredited diploma. He tried the GED route but had a hard time attending the required face-to-face classes while balancing work, his home life, and being a father. Juan shared with us why COHS finally clicked for him:
"If anyone is facing challenges completing their education due to their schedule, family, or any other circumstances, COHS makes things easier. It is so convenient with the added flexibility of being able to access the program online at anytime. You can study at your own pace. And it is accredited, which was important to me. And there was so much support! The academic coaches motivated me with daily messages. My managers at McDonald's were also there to support me every step of the way, and they were flexible with my work schedule when necessary."
Jayla Reed, a single mother in Ohio, was the program's next graduate. An employee since 2008, Jayla started working for a McDonald's franchisee when she was 16-years old. For her, McDonald's was the one constant in an otherwise bumpy life. Unfortunately, Jayla could not pass the tests required for her to graduate from her local school, and like Juan, she just couldn't make the GED work for her. This past fall, this hardworking employee wore a cap and gown at the McDonald's where she works and proudly received her COHS diploma as her crying mother and young daughter looked on.
Jenny Escobar (pictured at top of email) was the program's first Florida graduate. As a young mother of two, Jenny was forced to drop out of high school in order to prioritize work and being a mother. "I left school prematurely, and never found the right time to return," she said. "Going back to school was something I always knew I wanted to do as an example for my children and coworkers, but could never quite find the time. Thanks to McDonald's and the Archways to Opportunity program, I received my high school diploma through Career Online High School." Like Juan, Jenny is now a university student.
Julia Garcia, a hardworking mother who began working at her Ohio McDonald's restaurant in 2010 as a crew member, is one of our most recent graduates. She is using her education to work toward a promotion to a management position.
McDonald's recognizes that for employees like Juan, Jayla, Jenny, and Julia, earning a high school diploma with career skills is good for business, good for people, and good for communities. We, at COHS, believe that every individual, regardless of their background or previous circumstances, has the ability to return to high school and—with the support of our academic coaches and innovative online curriculum—successfully complete their high school diploma. For the majority of our students, this milestone is the first step toward continuing their education dreams and achieving their career potential.
We know that we will continue to hear these moving accounts of employees who have been given the opportunity to earn their high school diploma through this partnership with McDonald's. They are true attestations that our program is a stepping-stone for people to succeed as employees, better their lives and achieve their dreams.
We are proud to partner with McDonald's in a shared commitment to provide greater opportunity and brighter futures for America's workers.
---
To learn more about the Career Online High School program, visit McDonald's Archways to Opportunity website.