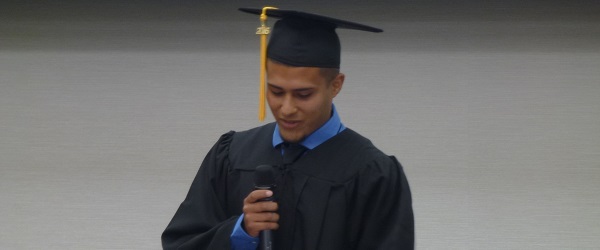 Adjudicated teens given hope for a brighter future through a groundbreaking partnership
Tulare, CA, July 26—For the first time in the history of the Tulare County Office of Education's (TCOE) Court/Community Schools division, incarcerated students have been afforded the opportunity to earn a high school diploma. The "Class of 2015–2016" included nineteen adjudicated youths, who were honored in a recent cap and gown graduation ceremony attended by the County Superintendent, Board of Education, Director of County Probation, several juvenile judges, the Juvenile Youth Facility teachers, numerous probation officers, and parents and family members of the students.
The online education program was brought to the Tulare students via a partnership between Instructional Access, Inc., and Smart Horizon Career Online Education (SHCOE), the world's first accredited online school district. Instructional Access brings technology-based programs to vulnerable and at-risk students and families.
"The success of this program is pivotal in our work to provide school districts with yet another viable graduation solution for 'hard-to-serve' students," said DeNae Reagins, a Senior Partner with Instructional Access. "This is the first time earning a diploma has been possible for incarcerated students of the TCOE."
Students attending the program earn not only a SACS/AdvancED/NCA/NWAC accredited high school diploma, but a skills-based career certificate, so they are prepared to join the workforce once released. The program also teaches real-world life skills, ranging from communication skills to financial literacy to anger management and conflict resolution.
"Education is a critical component to keeping young people from returning to prison or juvenile facilities," stated Dr. Howard Liebman, Superintendent of Schools for the SHCOE district. "It's a chance for these kids to turn their lives around. These diplomas represent a ticket to opportunity for these students, many of whom come from high-risk communities with high poverty rates. It was immensely gratifying to witness their success."
To date, the program in Tulare County has enrolled 100 students. In addition to the nineteen graduates, sixty three have already completed their career certificates.
Images from top to bottom:
Header: Graduate Roman Cisneros was chosen as the student speaker for the ceremony, sharing the challenges he overcame to stay in school and complete his diploma, while holding a job. 
Next: The graduates pose with their proud teacher, Mr. Frank Velazquez.
Bottom: Graduate Isaiah Lopez is congratulated by TCOE Assistant Superintendent Dr. Guadalupe Solis.
ABOUT INSTRUCTIONAL ACCESS, INC.
Instructional Access, Inc. was founded in 1998 with the goal and mission to provide programs that introduce and enhance technology experiences for vulnerable families. Participants include youth and families in "at-risk" situations that otherwise might not have access to technology as well as public and private school faculty and staff. Visit instructionalaccess.com to learn more, or contact DeNae Reagins at 888.377.8982.
ABOUT SMART HORIZONS CAREER ONLINE EDUCATION
Smart Horizons Career Online Education, founded in 2009 and based in Fort Lauderdale, Florida, is a private, AdvancED/SACS/NCA/NWAC accredited online school district. District accreditation signifies that SHCOE and all of its schools are fully accredited and that SHCOE is recognized across the nation as a quality school system. SHCOE offers 18-credit, career-based high school diploma programs that are designed to prepare students for entrance into the workplace. Career certificate offerings include Child Care, Office Management, Protection Services, Homeland Security, Commercial Driving, Retail Customer Service, Food and Hospitality, and General Career Preparation. For more information, visit shcoe.org.