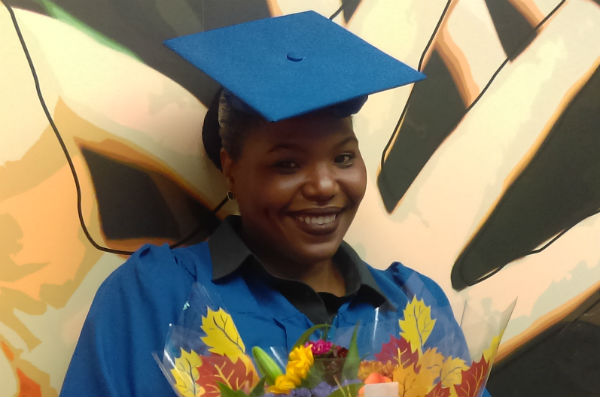 McDonald's Archways to Opportunity and Career Online High School enable student to graduate
It is hard not to notice how excited Audra Selmon is about earning her high school diploma. After years of struggling to earn her GED, the 35-year old decided to try Cengage Learning's Career Online High School. And now, just four months after graduating with her diploma, she has already enrolled in college and is on her way to earning her postsecondary teaching credential.
Audra, a shift manager at McDonald's in the St. Louis, Missouri, area, was given the opportunity to attend the private, accredited school through McDonald's Archways to Opportunity program—tuition free. "One day my supervisor saw me lugging these books around and asked me about them," Audra explained. "I told her about my difficulties with the GED and getting to the classes using public transportation and she told me about Career Online High School."
Audra had been struggling with the GED for years and was even going to preparation classes several days a week. But, when she took practice tests she did poorly and that really discouraged her. "And I really wanted to earn an actual high school diploma," she said.
Audra suffered from severe test anxiety, which made both the GED and traditional high schools nearly impossible for her. She had dropped out of high school in 11th grade.
"I always felt like a failure in school," she recalled. "Then I got pregnant, and moved to a new school system all at once. I had to focus on being a parent and supporting my daughter. I felt there was no way I could be successful in school on top of it all."


Her experience was totally different at Career Online High School. Her Academic Coach Heather Stores helped her overcome her past educational traumas, set realistic goals, and believe in herself. "Audra has spent most of her life being really hard on herself," said Heather. "We worked on how to be flexible and kind with ourselves. She persevered and kept in touch with me every week. I'm very proud of her for accomplishing something for herself."
"Heather encouraged me on a weekly basis," said Audra. "I cried a lot of tears to her! I am so grateful for her. For the first time in school I didn't feel like a failure. I could tell she believed in me."
Audra knew she wasn't going to stop with her high school diploma. Shortly after graduating, she enrolled in a teacher education program. She is considering specializing in special education because she felt some of her teachers failed her and she doesn't want others to feel that way. "When children fall through the cracks it stops their growth," she explained. "I want to reassure them that it's ok if it takes you a little longer to learn something or you get a bad grade, and that it's ok to ask for help."
She is sending that message to her own children by earning her high school diploma. "I want them to share something with me that I didn't share with my mom—having an education and being prepared for life," she said. "I want them to know that you create your own future." Her children motivated her. Audra's eight-year-old son told her that he believed in her and that he knew she was going to do it; her daughter is very proud of her mom, too.
Audra finished the program in six months by transferring in credits she earned previously in high school. Along with her diploma, she earned a Food and Hospitality Career Certificate, which taught her customer service and professional skills she could apply immediately in her job.
She's grateful to her supervisor and to the McDonald's program for helping her achieve her goals. Her supervisor even threw her a graduation party at the McDonald's where she works.
"When I received my diploma I started crying!" Audra said. "I feel so complete! I have wanted this for so long, but I have been fighting myself my entire life. I am going to keep moving forward—college, a teaching career—sky's the limit."