At the end of his 11th grade year, Gibson Garcon's grade point average dropped so low he was told not to return. Today, Gibson holds a Master's in Leadership and State of Florida Teaching Certification and is inspiring students at SHCOE.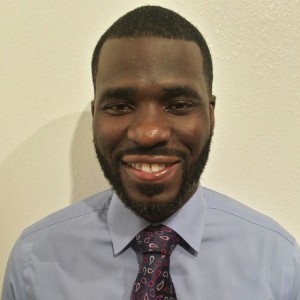 Gibson recalled the first day of his senior year when he stood in his school's hallway searching the board on the wall for his room assignment—only to find that he was not on the list. Gibson had been academically released. The thought of telling his father he could not go back to school merged with the fear of not having a high school diploma was a wakeup call to Gibson at a young age. Confronted with the possibility of being kicked out, he fought to be granted another opportunity. With the support of his father and an empathetic Principal, he was given "a second chance at academic success."
Gibson took that chance and ran with it. He graduated on time with his senior class, and went on to earn a Bachelor's Degree in Theology from Baptist College of Florida and a Master's in Leadership from Liberty University. He then served as a Commissioned Officer in the United States Navy Reserve.
"Getting told I 'wasn't good enough' to stay in school was traumatic," said Gibson. "It was a close call but it woke me up. It changed my life."
That experience lead him to become passionate about working with students who may have struggled like he did, or faced educational traumas. He worked in student services for online universities and then moved into the classroom as a Math Instructor for Miami Dade County Public Schools in Florida. He finally combined those experiences to become an Academic Coach at Smart Horizons Career Online Education (SHCOE), where he now helps other formerly struggling students realize their own "second chance at academic success."
When asked what lead him to the SHCOE program in particular, he said "it gave me the opportunity to use my passion for helping students succeed at an institution whose mission is to reengage individuals without a high school diploma back into the educational system."
He applauds SHCOE for a Student Engagement Model that envelops students with support from every angle. "We enable the academic success of our students through a multifaceted approach to student support involving phone campaigns, personal calls to students, various encouraging emails, online seminars, tracking and monitoring student progress, and the prompt resolution of various student-centered needs."
He uses his own close call with dropping out to engender the success of his students. "As a previous at-risk and withdrawn high school student, I understand the challenges associated with academic underachievement and the determination necessary to overcome obstacles to become a high school graduate," he said. "I enjoy providing students with the knowledge and resources to help them achieve academic and career success."
Not only does Gibson understand and relate to his students, he also provides them with tangible tools to succeed. He keeps track of attendance and talks to his students about what has been preventing them from completing their coursework, and helps them build a plan to get back into the classroom. By giving them encouragement and the tools to pass a difficult test or overcome an obstacle, Gibson knows he's getting them one step closer to graduating.
"The most rewarding part of the job is when I provide the resources and support to students that enable then to pass a challenging exam, qualify for a scholarships, get into college, apply for a new job, or finally graduate. Enabling students to reach their future and educational goals is something that I find very meaningful and rewarding."